Prof. Dr. Heinrich Fuchs – Wien
Die österreichischen Maler des 20.Jahrhunderts
Hugo Josef Heikenwälder
Maler in Baden bei Wien. Geboren am 27. Mai 1949 widmete er sich von Jugend an der Musik, der Malerei und der Literatur. Bereits sein Frühwerk (Aquarelle und Zeichnungen zu den Themen Landschaft, Frauen und Erotik) fand einen exquisiten und begeisterten Sammlerkreis, der die individuelle Handschrift des jungen Künstlers zu schätzen wusste.
Hugo Josef Heikenwälder erhielt seine künstlerische Ausbildung im Kunsthistorischen Museum in Wien, wo er sich dem Studium der altmeisterlichen Maltechniken widmete. Seine Tafelbilder sind in feinster Öl-Lasur-Technik auf Kupfer oder Edelmetallen gemalt und zeichnen sich durch warme Farbharmonien und strahlende Goldtöne aus.
Besonders in seinen Miniaturen, auf Gold, Silber oder Platin, erreichen seine Landschaften und Frauengestalten eine unverwechselbare und faszinierende Qualität. Diese kleinen Meisterwerke, oft nicht grösser als 7 x 10 cm, bestechen durch ihre feine Ausarbeitung und entfalten bei entsprechendem Lichteinfall eine aussergewöhnliche Brillianz.
Die Zeitlosigkeit seiner Themen und seine klassische Formensprache verleihen seinen Bildern eine "ewige Gültigkeit" und machen sie zu international begehrten Sammelobjekten.
Encyclopaedia of Austrian Painters of the Twentieth Century
by Dr. Heinrich Fuchs, Vienna, Austria
Hugo Josef Heikenwaelder
Painter in Vienna. Born on May 27, 1949. He dedicated himself from his youth to music, painting, and literature. His father was a pianist (9 years at the Vienna Conservatory) and illustrator (children's books). His mother had literary ambitions (poetry and short stories).
Hugo Josef Heikenwaelder received his artistic training at the Museum of Fine Arts in Vienna, where he dedicated himself to the study of the painting techniques of the old masters. His panel paintings are painted using the finest layered-oil technique on copper or precious metals and distinguish themselves by their warm colour harmonies and radiant golden tones.
His landscapes and female figures reach an unmistakable and fascinating quality, especially in his miniatures on silver or gold. These small masterpieces, often no larger than 7 x 10 cm, appeal with their fine details and in the proper light, display an extraordinary brillance. His timeless themes and his classic style give his paintings an "eternal validity" and make them internationally desirable collectibles.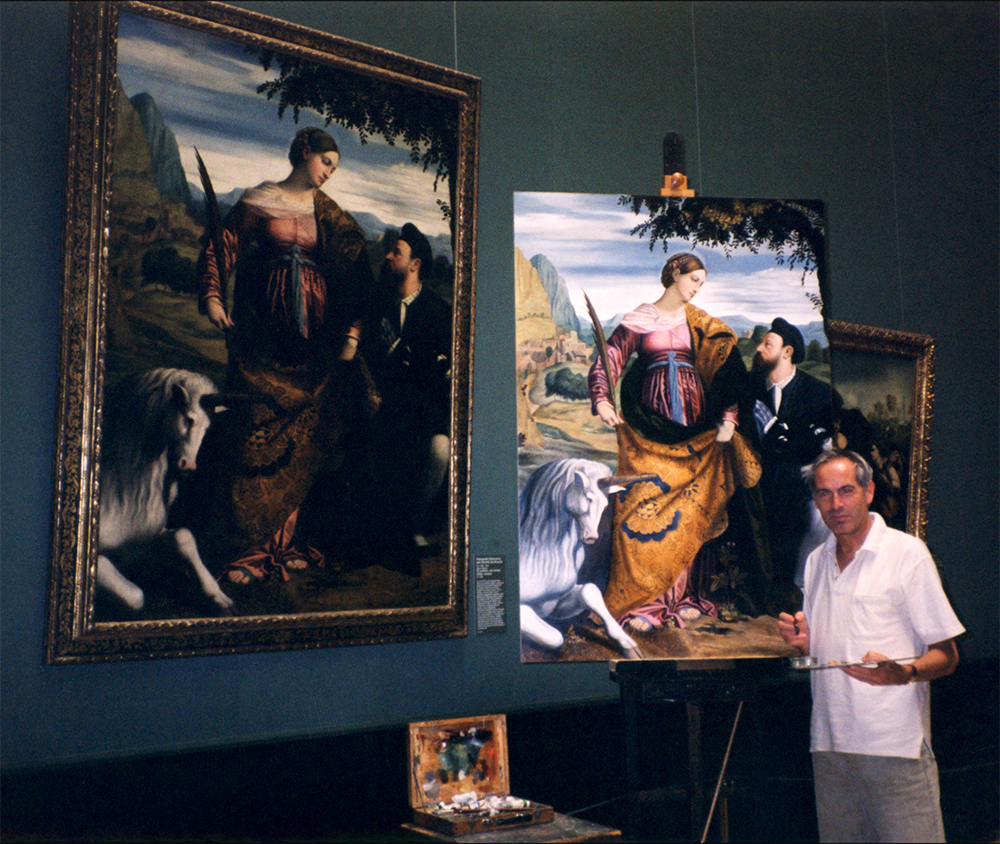 Als Kopist im Kunsthistorischen Museum in Wien